KAESER MOBILAIR portable compressors
Made in Germany: powerful and efficient with long-term value retention
Compressed air wherever you need it – even under the toughest conditions: The main Kaeser plant in Coburg produces powerful machines with advanced, fuel-saving motors and heavy-duty chassis in a wide range of models – from the smallest portable units to large compressors.
Many models feature a rotational moulded PE enclosure (tension-free for extreme dent resistance)
Simple and intuitive operation  
Optimal maintenance point accessibility prevents unnecessary downtime
And the Kaeser Service Network, with its state-of-the-art logistics, ensures operational reliability wherever you are.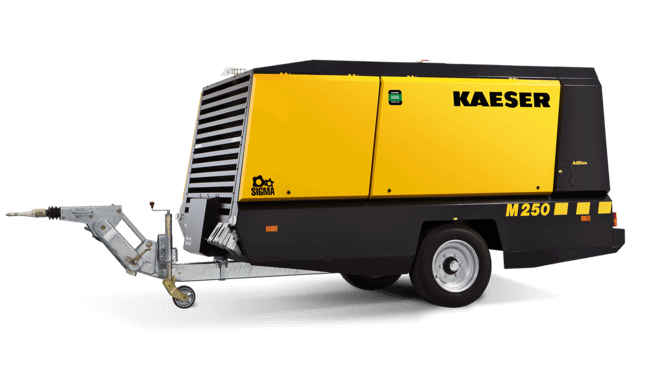 Compressed air as a versatile energy source
With a century of experience in machine construction and engineering KAESER KOMPRESSOREN is one of the world's leading compressor manufacturers and compressed air systems providers.
KAESER's compre-hensive range of products and services ensures that all compressed air users can find a solution that meets their exact requirements.
The numerous different models of the MOBILAIR range of portable compressors are all manufactured at KAESER's headquarters in Coburg, Northern Bavaria.
Equipped with the very latest technology, the recently modernised portable compressor plant boasts state-of-the-art equip-ment, including a sound testing area certified by the TÜV (German Technical Inspection Agency) for free-field sound level measurement, a complete powder-coating facility and highly efficient manufacturing logistics.
Download Technical Specifications
Every KAESER rotary screw airend is equipped with energy-saving SIGMA PROFILE rotors. Meticulous manufacturing and precision-aligned anti-friction bearings guarantee long service life and maximum reliability.
Whether it's for diesel engine sales, service, parts or advice, CALL US TODAY: +64 9 414 7360